PROFESSIONAL & EXPERIENCED HOME INSPECTION
Specializing in Real Estate Inspections & also 4-Point & Wind Mitigation Inspections
ABOUT YOUR HOME INSPECTION
Whether you're buying or selling a home, having a professional home inspection from a seasoned inspector will give you peace-of-mind and assist you in a fair and smooth transaction. Don Hopkins Home Inspections, LLC is the premier home inspection company in Cape Coral, FL and the surrounding Region. We have been trusted by home buyers to help them make informed buying decisions and we work hard to make sure there are no surprises come move-in day.
INSPECTION SERVICES
Home inspections typically range from 2-4 hours long depending on the size, condition, age of the house, and the number of systems to be inspected. A home is a huge investment and you should expect a good return on your investment. If you do not have all the facts up front it reduces your ability to negotiate the sale price and could cost you more in repairs later. You are invited and encouraged to follow along with me as we walk through your new home.
Home inspections cover nearly every element in and around a home and other structures on the property. Roofing, full exteriors, structural elements, full interiors, plumbing, electrical, heating and air conditioning, and all of the components of these are subject to inspection.
The ICA program teaches the "Outside-In, Top-Down" approach, which is common throughout the industry. It's not just a matter of preference, though. There's a reason for this method, and it leads to a more thorough job.
Inspections begin on the outside of the property, walking around the exterior of home. Next, the roof is inspected, then the garage, and finally the inspector goes inside the home.
Once inside, the inspection starts at the top, preferably in the attic, and works down through the house, checking floors, walls, plumbing, stairs, and other elements until he reaches the crawlspace or basement. The crawlspace is last because any leaks that emerge while inspecting the plumbing inside the home have the chance to drip down and be noticed.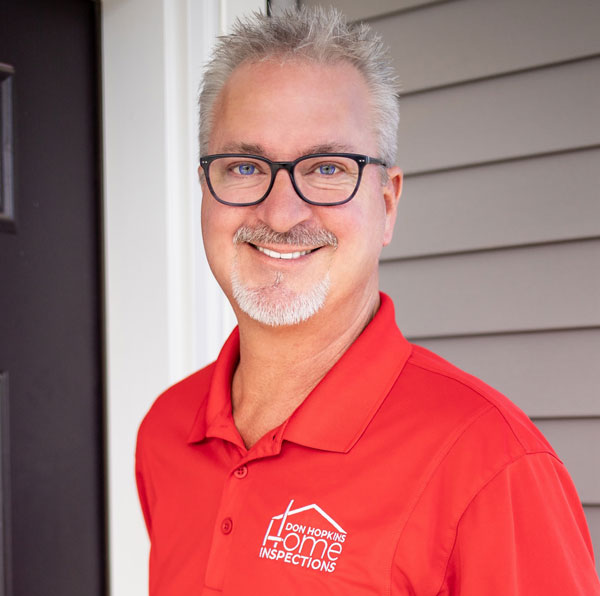 HIGHEST QUALITY IN THE INDUSTRY
I, Don Hopkins, am a fully licensed and experienced professional that is passionate about providing you the best service. I perform thorough inspections by taking my time to ensure you are provided with the proper knowledge to make an informed home buying decision. I understand that every home and home buyer is different, and want to help ensure that the experience creates long lasting memories.