TEST. FIX. SAVE A LIFE.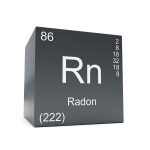 About 1 out of every 15 homes in the United States have a level of radon that is too high. Breathing in radon over time can cause lung cancer, especially if you smoke. If the radon level in your home is high, you can take steps to fix it.
Radon is a natural radioactive gas that you can't see or smell. There is usually very little radon in the air outside, but sometimes an unsafe level of radon can build up indoors.
If you are breathing in too much radon, you won't feel sick or have any symptoms right away. Testing your home is the only way to know if there's a radon problem.
UNDERSTANDING RADON TEST RESULTS
The EPA recommends having a short-term test, 2-3 days, done first. If that test comes back above the action level of 4 pCi/L, then a long-term test, at least 90 days and usually 6-12 months, is recommended to gauge the home's annual radon concentration.
0.4 pCi/L:
Lowest achievable level in a house and average outdoor levels.
1.8 pCi/L:
Average radon level in the lowest lived-in floors of Florida homes.
4 pCi/L:
Level in basements of over half of homes in some regions of the state.
"*" indicates required fields